DAGS! - Flaws & Gestures 12" vinyl (PRE-ORDER)
£

6.00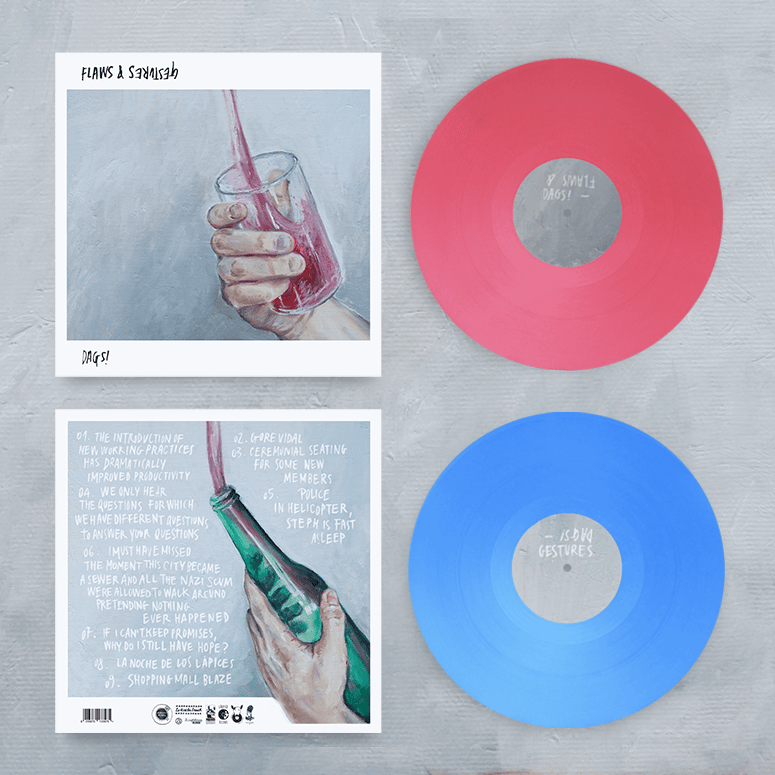 Forza DAGS! The brand new album from the Italian indie-rock trio. Due out on 21 July, the record is available to pre-order on either hot magenta or blue vinyl now. Comes with a full digital download of the album.
LISTEN:
Flaws & Gestures by DAGS!
TRACKLISTING:
1. The introduction of new working practices has dramatically improved productivity
2. Gore Vidal
3. Ceremonial seating for some new members
4. We only hear the questions for which we have different questions to answer your questions
5. Police in Helicopter, Steph is fast asleep
6. I must have missed the moment this city became a sewer and all the nazi scum were allowed to walk around pretending nothing ever happened
7. If I can't keep promises why do I still have hope?
8. La Noche de los lapices
9. Shopping mall blaze
CREDITS:
DAGS! is:
Marcantonio
Viole
Fabio
Recorded and produced by Thomas Le Beau Morley at Unit 8c (London, UK) and Milan, Italy, during August 2017 and January 2018.
www.facebook.com/TLBMRec
Mastered by Dan Coutant at Sun Room Audio in Cornwall, NY
www.srmastering.com
Paride plays trumpet, Fabio plays saxophone on 'Gore Vidal'
All orders are usually shipped within 48 hours, unless the item is a pre-order in which case it will ship on or just after the release date.
If you have any questions about your order please get in touch: [email protected].
Share